Talk about the height of stupidity. Comedian and satirist Jay Branscomb uploaded an old picture of Steven Spielberg sitting next to a 'dead' dinosaur prop with a caption that said "Disgraceful photo of recreational hunter happily posing next to a Triceratops he just slaughtered. Please share so the world can name and shame this despicable man". What followed was a tsunami of comments and shares by people who condemned Spielberg and protested against the killing of the 'poor animal'. Check it out below.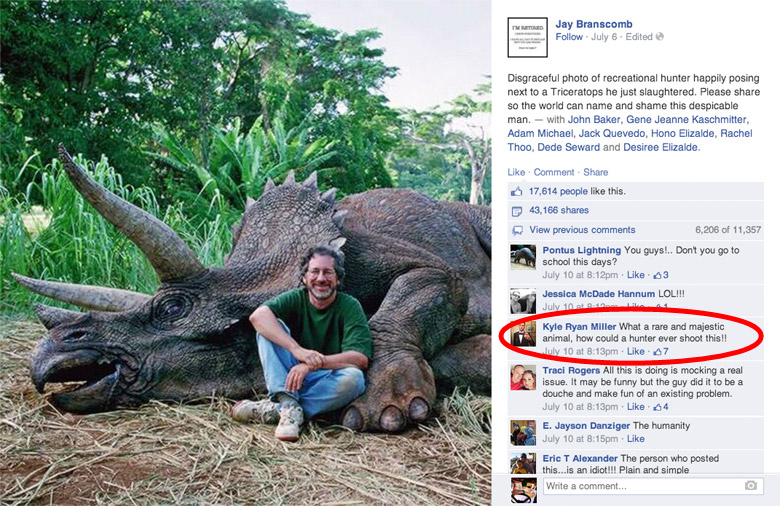 More Funny Comments
"These hollywood rich bastards are starting with the triceratops… but if we dont act FAST, the next ones are THE BELOVED t-rexes that are living in AMAZON JUNGLE nowadays"
"Shame on this man! When will humans stop killing animals?!?!"
"I know there is some park, but i said before it dont matter wher u kill an animal, its wrong"
"I agree. It's a shame to kill such a majestic animal but think off all the people it could feed."
"Disgraceful. No wonder dinosaurs became extinct. Sickos like this kill every last one of them as soon as they are discovered. He should be in prison."
"What a rare and majestic animal, how could a hunter ever shoot this!!"
"I do not understand some of the comments: If Triceratops disappeared thousands of years ago, then how could Jurasic Park be filmed? You got no idea."
Branscomb's post has become troller heaven with more than 11,000 comments filled with wisecracks and memes that leave you guessing as to which ones are sarcastic and which ones are genuinely idiotic. Seen a funnier Facebook post off late? Let us know in the comments below. Help the world by sharing this article so that someone out there can find a cure for these people.