DDB Group Germany has come up with an exceptional print campaign for Stabilo Boss highlighter pens that honours extraordinary but overlooked women who helped change the course of history.
The ads feature old black-and-white photos of scientists, NASA engineers, and politicians. The women in the background are highlighted in fluorescent yellow by a Stabilo Boss highlighter. The tagline reads: "Highlight the remarkable", followed by the names of the women and their contribution to science, astronomy, and politics.
The women featured in the ads are Lise Meitner (who discovered nuclear fission), Katherine Johnson (NASA mathematician whose calculations resulted in the safe return of Apollo 11), and Edith Wilson (former US First Lady who assumed her husband's presidential role after he was paralyzed). Check out the ads below.
1. Lise Meitner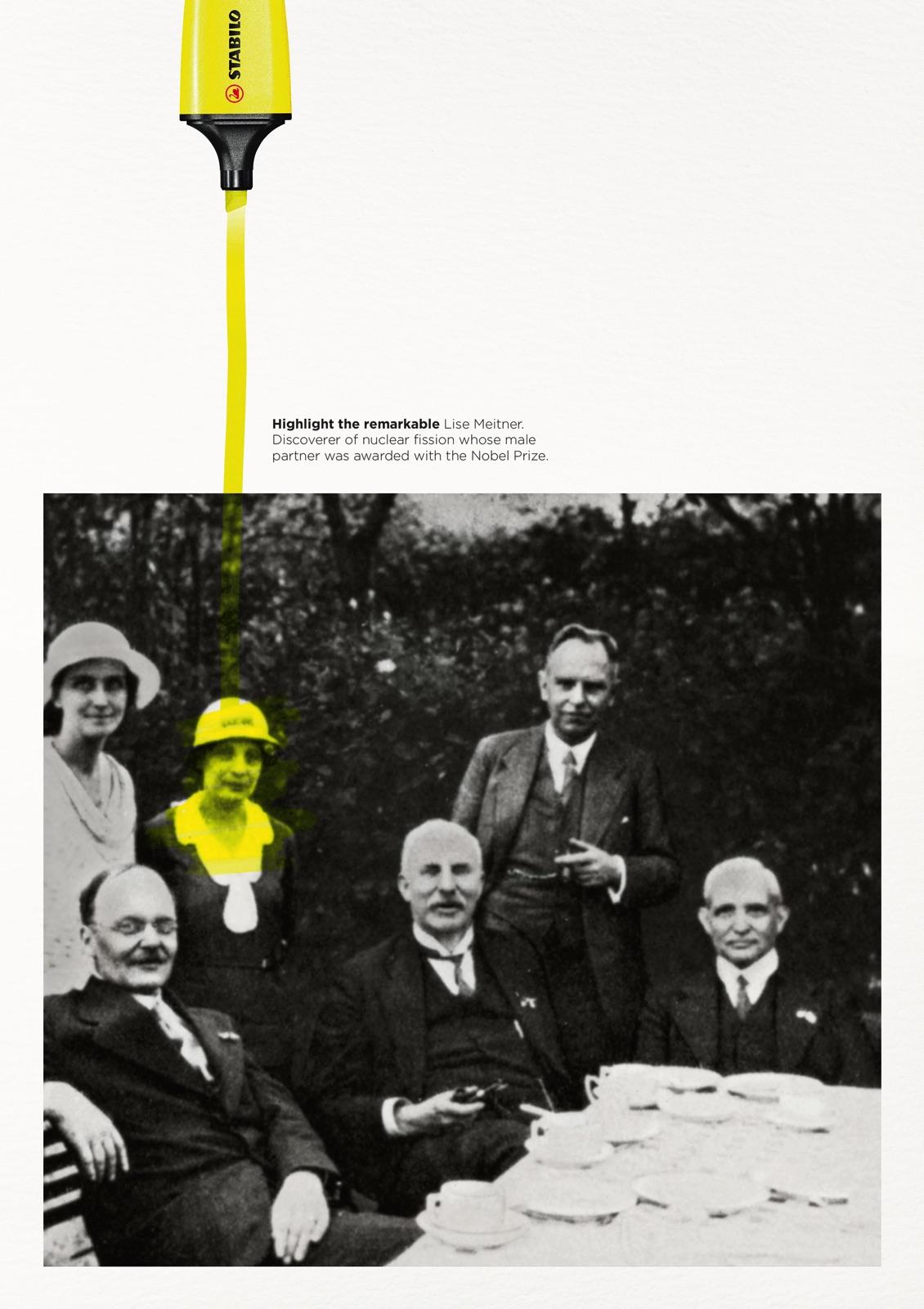 2. Katherine Johnson
3. Edith Wilson
Social Media Reactions
The new Stabilo adverts are perfect. pic.twitter.com/lGjmBU56j2

— Daniel Benneworth-Gray (@gray) July 5, 2018
These ads from German stationary maker STABILO that "highlight" invisible women and their contributions are absolutely BRILLIANT. #marketing pic.twitter.com/S27tyHYcYp

— J.W. Cannon (@cannonjw) July 6, 2018
"Highlight the remarkable"
Stabilo released a campaign that highlights the women behind historical breakthroughs, changing our perspective of history forever. Amazing job, @DDB_Worldwide 🖤

Who else do you think should be highlighted in our history? Tweet us with your answers! pic.twitter.com/BgRl1AmsiE

— alike (@alikeofficial_) July 6, 2018
Excellent campaign by Stabilo and @DDB_Worldwide: 'Highlight the Remarkable" #ad #campaign #feminism #womeninscience pic.twitter.com/F0FgzhFwsh

— Ana (@AnaBCampe) July 2, 2018
These Stabilo ads 🙌🏽 … pic.twitter.com/TKMEj6dWec

— Livity (@LivityUK) July 5, 2018
Regional campaigns were also created
🇵🇭 New Stabilo Ph edition ad honors filipinos who worked hard to change the status quo. 😍😍😍 pic.twitter.com/HxKbkZ0Jjt

— Jules (@chubilitto) July 8, 2018
CREDITS
Advertising Agency: DDB Group, Düsseldorf, Germany
Chief Creative Officer: Dennis May
Executive Creative Directors: Kristine Holzhausen , Stefan Rehne
Art Director: Vera Ickert
Copywriter: Teresa Berude
Graphic Design: Kathrin Stenger
Post-Production: Stefan Kranefeld Imaging
Planning Director: Christian Bihn
Account Director: Philipp Starck
Junior Account Manager: Malte Kraft
Share this post with the remarkable women in your life and voice your views in the comments below.