Every business needs a great logo, especially in the digital age where logos often play a major role in a company's overall marketing strategy. However, securing a great logo first requires you to find a great logo designer, and this step is vitally important if you hope to come up with a creative, original logo that will portray the right message to your customers.
Before you hire a logo designer to help you design the perfect logo for your new business, consider these five crucial factors.
1. Check Out Their Portfolio
When you start investigating whether or not a logo designer is the right one for your project, their portfolio is the first place that you should look. If they don't have a public portfolio, ask if they can send it to you – any logo designer that has been in the business for a decent amount of time will have a portfolio to show and will be happy to let you look at it.
Checking out a logo designer's portfolio before you hire them is akin to looking at an applicant's resume, except it tells you even more. There's no lying or glossing over the truth in a portfolio. Assuming the work really is there own, you can find out a lot just by looking at a few samples of the logos that they have designed in the past.
Not only do you need to look for quality and creativity, you also need to see if the logos in a designer's portfolio match the style of the logo you are looking for. Many times, designers work within a specific style, and you need to make sure that style is one that you can get on board with. Taking a look at their portfolio is the best way to answer this question and many more.
2. Get a Feel for Their Creativity
Rarely can creativity be taught, and sometimes it's hard to recognize. Nevertheless, creativity is an attribute that is essential for successful logo designers.
Think about what it takes for a logo to stand out from the crowd in a good way: it needs to be simple enough so as not to be messy or confusing, meaningful enough to convey the right message, and unique enough to be immediately recognizable. Designing a logo that exhibits these qualities takes more than talent or experience – it takes an immense amount of creativity as well.
So how can you know if you are working with a truly creative designer? As mentioned already, looking at their portfolio is a great place to start. Beyond that, though, there's a simple question you can ask to get a feel for their creativity before the project ever begins.
After you've laid out any instructions you might have, ask your designer if they have any ideas about the direction they want to take your logo and listen carefully to their answer. A great, creative designer will be able to quickly come up with a vision (or multiple visions) for your logo. If they're able to come up with a unique, creative vision and at least adequately describe it to you, chances are they'll be able to design that unique, creative vision as well.
3. Consider Your Own Instructions and Expectations
In the end, you the business owner play just as important a role in the design of your logo as the designer. After all, no one knows your business quite like you do, and no one knows the type of logo you are looking for like you do either.
The instructions and expectations you lay out for your logo designer are incredibly important. Many people tend to give logo designers an entirely blank canvas in the hope that it will allow them creative freedom. However, when you offer up a blank canvas you never know what a designer is going to fill it with. Unless you really do have no idea what you want your logo to look like, you should provide as many details and instructions to your designer as you can.
Granted, there is a bit of a balance here. You don't want to smother your designer with instructions and put them in a box. If possible, leave your instructions a little open-ended, but at the same time provide the designer with a quality blueprint that they can follow.
4. Explain Your Brand and Your Target Customer
In the same vein as providing instructions for what you want your logo to be, you should also take the time to explain your business and your target customer to your designer.
Many talented logo designers will have developed a bit of marketing expertise, particularly as it pertains to logos and how they are used. They'll know what colors work best for certain goals, what designs can be used to inspire a target audience, what the design standards are for different industries, and more. The more a designer knows about your brand, your customers, and your goals for your business, the more they can put this knowledge to use in the logo that they design.
5. Personality Counts
Working with a logo designer is often a hands-on experience. You'll have to communicate back and forth with them, offer up advise, take into account their own advice and recommendations, and more. With this being the case, it's important to realize that personality counts.
There's more to a great logo designer than on-paper experience and skills. They need to be someone who is passionate, agreeable, and easy to work with. Preferably, they'll have top-notch communication skills and will make the entire process of designing your logo enjoyable from start to finish.
Try to get a feel for the personality of your designer from the messages the two of you exchange. If that's not enough, it may be beneficial to schedule a phone call or a video conference with them. Whichever way you go about it, take the time to make sure you are working with someone who is pleasant and easy to work with. When it's all said and done, these personal qualities can make a huge difference in how your project turns out.
Looking for a professional logo designer?
Check out FreelanceMyWay.com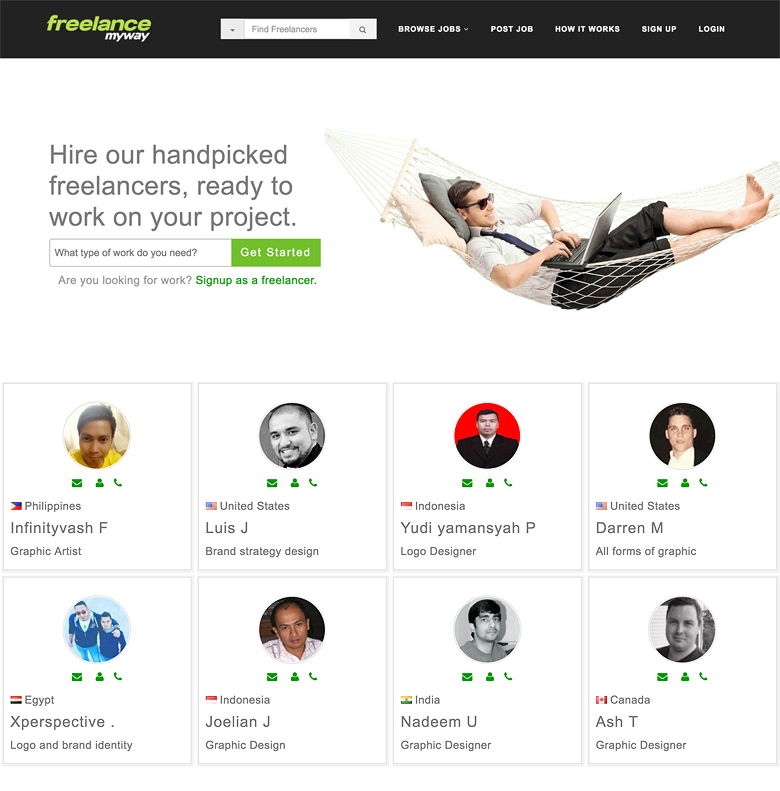 You can post your project for free, after which, you will receive bids on your project. The team at FreelanceMyWay screens and handpicks freelance professionals through a filtered application process to maintain quality assurance.
Share this post and voice your views in the comments below.