We've all thought of creative ways to take a day off, but this guy takes the cake. In a tweet that's gone viral with over 200,000 likes and 40,000 retweets, Twitter user @PapaBoardslide revealed that he once Photoshopped a flat tire on to his car just to get out of work. He also described it as the "proudest moment" of his life.
What makes it funnier is that the shadow of the lug wrench in the Photoshopped image is "floating", and the user also changed the hubcap of the original tire. Somehow, he seems to have gotten away with all of it.
Replies poured in to the tweet, with some users describing the idea as "genius", while others opined that the man should be "promoted to CEO". Check out the tweets below.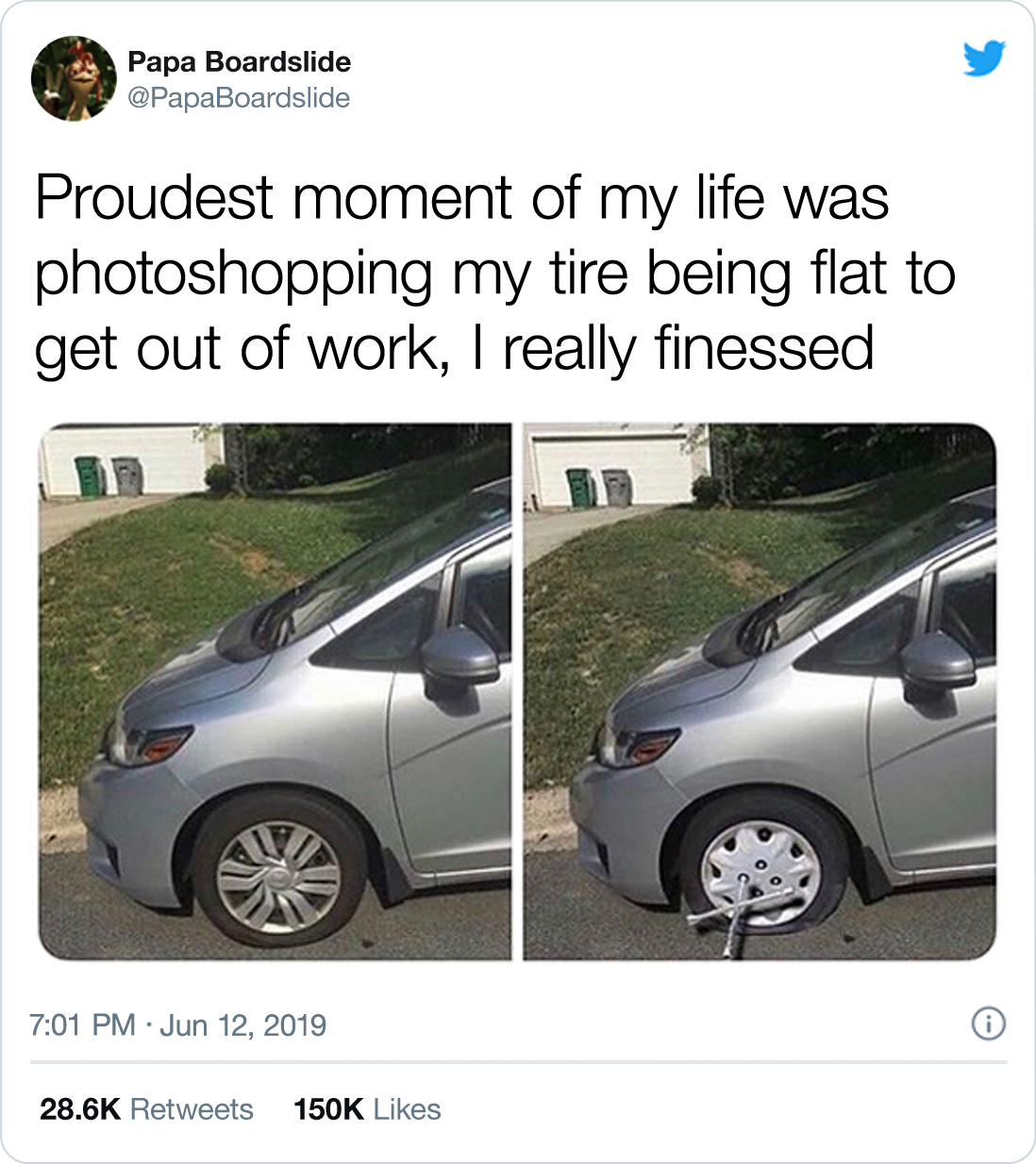 Replies
In my humble opinion you should be promoted to CEO

— kate (k ocho) (@hkyzzle) June 13, 2019
Should've took the whole week off. pic.twitter.com/RbHxAUPaT4

— Mikos Von Beaverhaus III (@iMikosnyc) June 13, 2019
Lol. 😂😂😂 pic.twitter.com/tclqg5Cbs2

— Chase Ibanez (@omegacatzed) June 13, 2019
Did anyone notice that the rims are different?? 😂

— 10K/TWOTONE™ (@Prodby10k) June 13, 2019
Lol y'all be careful now if you have iPhones. If they save the photo in there camera roll it shows them the exact date & time the picture was taken.

— I Put you on now things are never the same (@Polowill__) June 13, 2019
I found the picture you used 😂😂 pic.twitter.com/TZdvHiDMSI

— Lupe (@lupesalas) June 14, 2019
— veezy (@veronicagurley) June 13, 2019
What I often do is every accident I've had in my life, I keep all pictures for a day like this. Whenever I want to call off, I just pick one of these pic and send it along. 😂

— Yawovi (@Yawovielevn) June 13, 2019
Share this post with a designer friend and voice your views in the comments below.