Carrie is an upcoming horror film about Carrie White, a lonely high-school girl who possesses telekinetic powers (the ability to move objects without physically touching them). She uses these powers to extract revenge on her town after being humiliated frequently by her peers. To promote the movie on ground, the marketing team came up with this scary prank inside a coffee shop in West Village, New York City. The prank video has skyrocketed online with 3 million YouTube views, 250k Facebook shares and 11k tweets in just one day!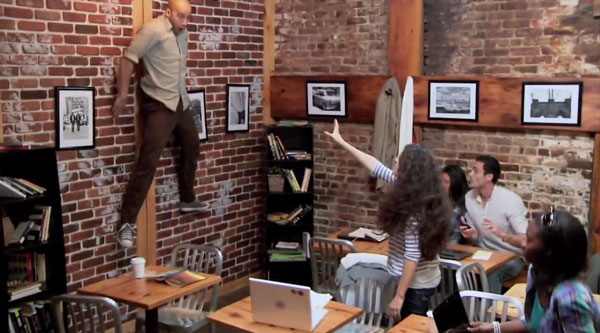 The crew rigged the entire shop with fake walls, remote controlled chairs, spring loaded books and pictures. They attached wires to the stuntman who was going to play the 'victim' and made actors sit near the prank area. The hidden cameras start rolling when the customers walk in. The stuntman 'accidentally' spills coffee on the female actor's laptop and an argument follows. Things get heated up, the girl raises her hand in the air and the man is sent flying back up against the wall. Customers are shocked to see this 'supernatural' telekinetic phenomenon. The girl starts screaming and the tables, chairs and books start rocking, shaking and falling.
Watch the prank in action:
Some viewers are questioning the authenticity of the prank since most of the reactions look a bit rehearsed. What do you think? On a different note, Prankvertising seems to be the new trend in marketing nowadays. Last month LG terrified job applicants with this hilarious meteor prank. What's your take on this kind of advertising? Share your views in the comments section below.