Here's one of those stationery items you'll want to buy immediately for your office or home. The Omoshiroi Block (translation: "interesting block") is a paper memo pad that reveals beautiful objects and architecture as it gets used.
Manufactured by Japanese design company Triad Inc, that specialises in small scale architectural models, the memo pad utilizes laser-cutting technology to create shapes of Kyoto's Kiyomizu-dera Temple, Tokyo Tower, Asakusa temple, and objects like cameras, pianos, and violins. Check them out below.
1.
2.
3.
4.
5.
6.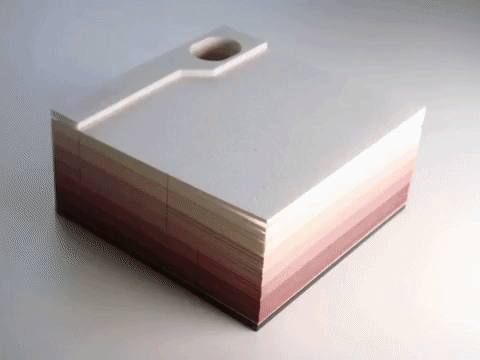 7.
8.
9.
10.
11.
12.
13.
14.
15.
16.
The Omoshiroi Block is priced from 4000 to 10,000 yen ($36 – $90 USD) and is currently sold out at both its stores in Osaka and Kyoto. We'll keep you posted when this item is available for sale online.
Would you buy this memo pad? Voice your views in the comments below and share this post with a friend who would want one of these.