Felix Baumgartner's record shattering 24-mile (38.6 km) space jump has put the Austrian skydiver into the history books and Red Bull's Stratos event into every marketing archive on the planet.
The company, whose brand slogan is "Red Bull gives you wings", engaged over 7 million people via social media with over 685,000 Facebook fans and 245,000 Twitter followers. A record 8 million viewers watched the live stream of the skydive resulting in invaluable exposure for the Red Bull brand. Watch the video below.
The view from Felix's headcam
How was it done?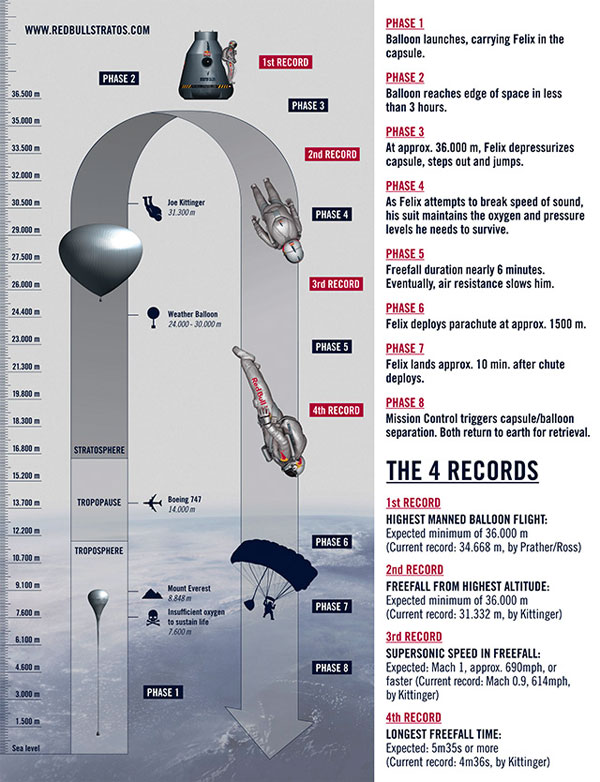 The technology:

Records broken:
Fastest freefall: Maximum vertical velocity without a drogue chute – 373m/s, 1342.8 kmph, 833.9mph (Mach 1.24)
Highest jump (exit) – exit at 128,100 feet (39,045 metres)
Longest freefall without a drogue chute – 4 mins 20 seconds, 119,846 feet in freefall (36,529 m)
Felix hit a top speed of 833.9 mph on his descent, breaking the sound barrier (768 mph) and thus becoming the first human to do so without vehicular power
Live stream with the most concurrent views ever on YouTube (8 million)
Felix's quotes:
"I know the whole world is watching now and I wish the whole world could see what I can see, sometimes you have to go up really high to see how small you are."
"Let me tell you – when I was standing there on top of the world, you become so humble. You don't think about breaking records anymore, you don't think about gaining scientific data – the only thing that you want is to come back alive.."
"It was way harder than I expected."
"For a moment I thought I would lose my consciousness."
—
P.S. Just came across this hilarious meme floating around the internet! ????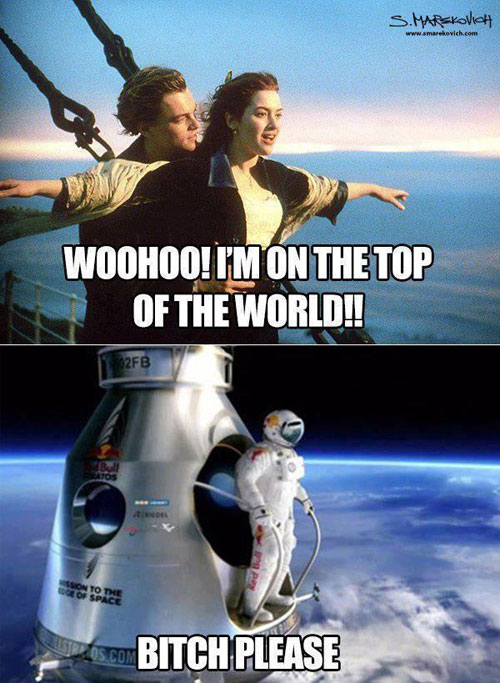 What do you think about Felix's record jump and the Red Bull Stratos event? Share this post with an adrenaline junkie and voice your views in the comments below.